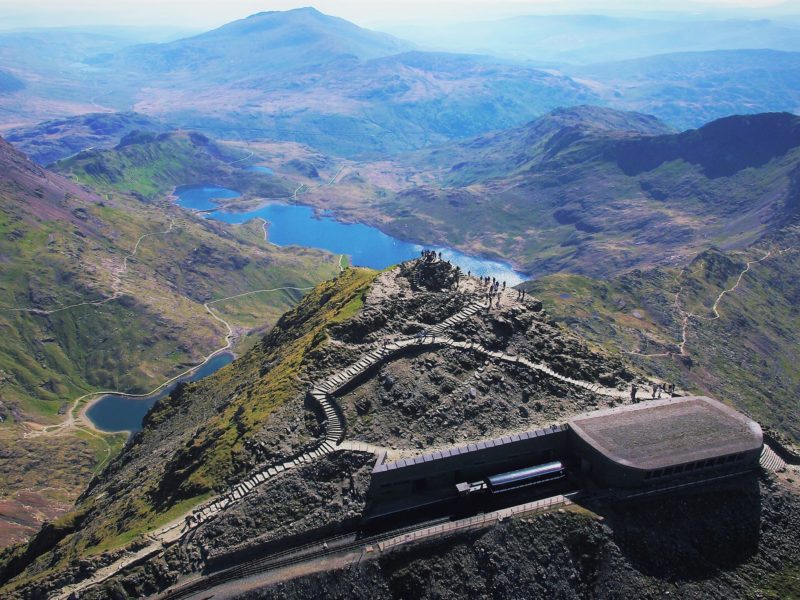 The First Minister of Wales, Mark Drakeford, is unveiling a plaque this month at Snowdon's summit building to mark ten years since its opening.
Hafod Eryri, which loosely translates as 'high summer dwelling on Snowdon', was opened in June 2009 by former First Minister Rhodri Morgan and was built to replace the ageing building that had stood there since 1935.
Designed by architect Ray Hole, the structure was designed to withstand the challenging mountain weather conditions, while blending in with its natural surroundings.
At 3,507ft above sea level it is Wales' highest inhabited building, operated by Snowdon Mountain Railway, with more than half-a-million visitors a year.
The First Minister of Wales, Mark Drakeford, said:
"This is a significant milestone for Hafod Eryri, a place visited by millions every year, securing itself the title of the UK's busiest mountain. It has proven to be a genuine Welsh landmark at a truly iconic location.
"We will continue to work with Snowdon Mountain Railway and our other partners to ensure Snowdonia remains a key destination for tourists from across the UK and around the world."
Vince Hughes, from Snowdon Mountain Railway, said:
"We're thrilled the First Minister is visiting Llanberis where he will travel to the summit on one of our steam trains.
"It's thanks to the Welsh Government that Hafod Eryri was built and there's no doubt it has transformed the experience for people when they reach the top of Snowdon.
"Although its position presents challenges, it has become a vital resource for both walkers and those travelling to the summit by train."
The Ministerial visit takes place on Thursday 13th June 2019.
For more information about Snowdon Mountain Railway and to book tickets for the 2019 season, visit: www.snowdonrailway.co.uk or find them on Facebook: SnowdonMR or Twitter: @SnowdonMR