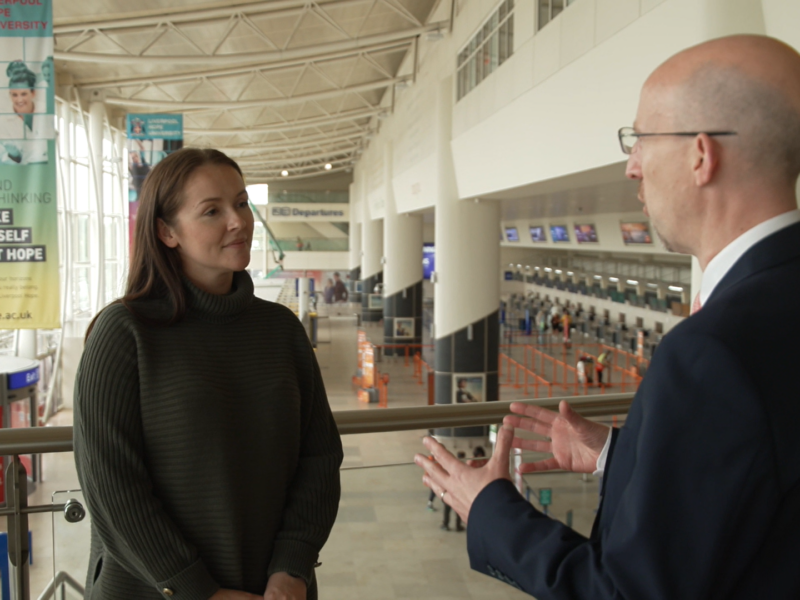 In an era of 24/7 rolling news and citizen journalism, it's now more crucial than ever to make sure that you're fully up to speed with how best to present yourself.
Boxed Off has trained senior executives from a range of organisations including Maersk, Co-op Energy, Liverpool John Lennon Airport, Suttons Group, Chiesi, the NHS, James Fisher Subsea and Thwaites as well as professional sportsmen including international footballers and rugby league players.
Some clients repeat the training on an annual basis to ensure their most senior employees are regularly refreshed in the latest techniques.
Managing your reputation is the most important thing for any individual or organisation.
Any of us can be filmed, often in HD quality, and not necessarily just by a journalist. It's therefore important to think about how you look as well as what you say, particularly if you're in the public eye.
Media training often takes place prior to a key announcement but more often it's to ensure the people concerned are prepared for when the media come knocking.

Why saying nothing is not an option
At some point you will have to make yourself available. If not, the media will go elsewhere with its insatiable appetite for a story. It's far better in terms of reputational impact to be in control of the story rather than following it.
Boxed Off has a track record of delivering bespoke sessions from general news awareness to intensive one-to-ones in a full broadcast studio environment using a UK-wide network of award-winning television cameramen.
What does each session involve?
The intensive training for a maximum of five people per session includes:
How to deal with journalists
Interview technique including do's and don'ts
No comment/off the record
The rise of the citizen journalist
Practical exercises – radio, TV and Zoom
Responding to a crisis scenario
Contact Boxed Off for a quote and your free interview tips or call us on 0151 304 7017.
Don't just take our word for it.
Here's what some of the people who've attended Boxed Off's media training sessions say . . .
James Fisher Subsea
"Very helpful, excellent and concise presentation."
"Extremely useful and informative."
"Great course, well presented with great interaction."
Chiesi
"Excellent fast-paced training."
"Very useful course. I learned a lot in a short space of time."
"The down the line was a great confidence build following the earlier exercises."
"Good group interaction and learnings."
The Olympus Academy Trust
"It has improved my confidence in responding to the media."
"Practice was really useful. It has helped improve confidence and hopefully competence."
Liverpool John Lennon Airport
"Excellent and realistic training."
"Great training, learnt some good skills and tips for interviews."
"I feel much more confident and prepared."
Shared Lives Plus
"Enjoyable, informative, useful confidence building and fun."
Suttons Group
"Very useful and engaging."
"Excellent and well organised day."
Axis Communications
"Very interactive, relaxed atmosphere, brilliant."
"Really good."
North West Ambulance Service NHS Trust
"This has certainly given me more confidence to represent the Trust should I be required."
"Very informative and useful to move forward."
"I learned a lot and feel better equipped to deal with media interviews."
Office of the Police Commissioner for Merseyside
"Very enjoyable and informative."
"A chance to try things out in a safe environment."