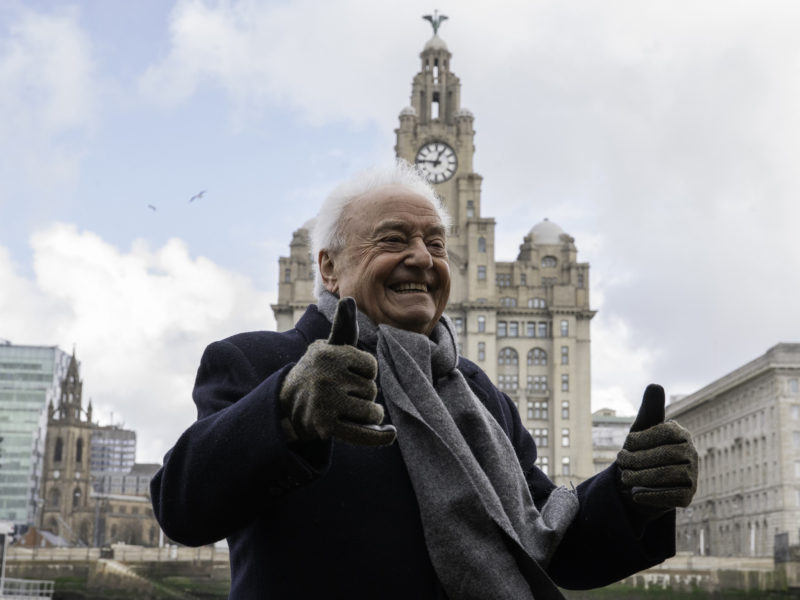 Boxed Off brought together three Liverpool icons to mark the opening of RLB360, the city's newest tourist attraction.
After catching a Ferry 'Cross the Mersey, Gerry Marsden MBE officially opened the new RLB360 visitor centre at the Royal Liver Building before enjoying views from the 10th floor.
RLB360 offers guided public tours of the Grade I-listed building and 15th floor for the very first time, unlocking breathtaking 360° views as well as an immersive audio-visual experience in the clock tower.
During his 60-year career in the music industry, Gerry enjoyed world-wide fame with his band Gerry and the Pacemakers and released 4 'number one' UK singles.
Gerry Marsden MBE, said:
"What a day! I'm so proud to have officially opened RLB360, revealing such stunning panoramic views from my city's most iconic building.
"The Royal Liver Building has always been a landmark that people around the world recognise and I'm sure people will want to come and enjoy the experience for themselves."
Allan Leech, CEO of Heritage Great Britain said:
"We're thrilled to finally unveil RLB360 after a great deal of effort from our team and the support of all our partners.
"We've been working hard, behind the scenes, to unlock the most iconic building of Liverpool's world-famous waterfront and allow locals and tourists alike the chance to explore the clock tower and gain Liver Birds-eye views for the very first time."
Tours begin in the new lower ground floor visitor's centre where the building's rich history starts to come to life, before guests access the Liver Building's 10th floor balcony, and climb the clock tower to its 15th floor, just below the famous Liver Birds.
Tickets and more information about Royal Liver Building 360 are available from the website: www.rlb360.com.