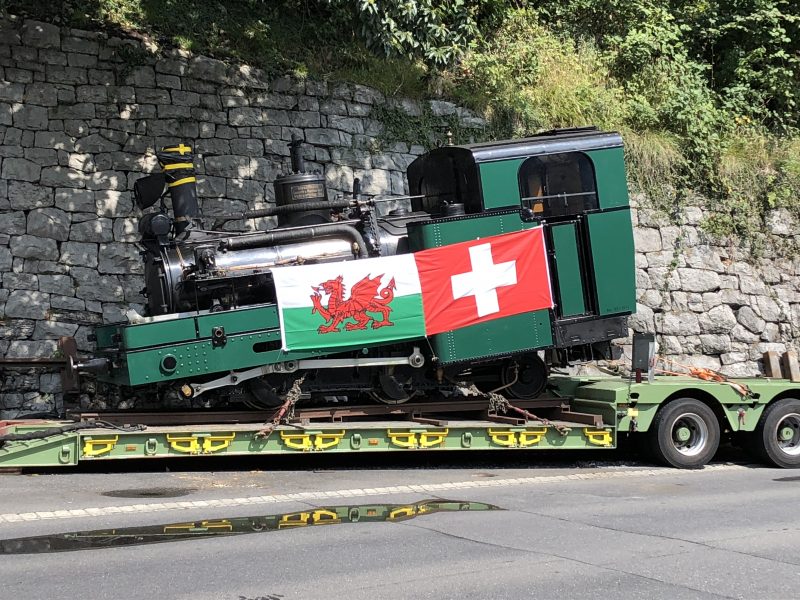 A Swiss locomotive is making a historic journey to North Wales next week, offering visitors to Snowdon Mountain Railway free rides and a taste of the Alps. 
For the first time, a train from the Brienz Rothorn Bahn (BRB) mountain railway in Switzerland is travelling 900 miles from its Alpine home to meet up with its sister locomotives on Snowdon. 
During September, visitors to the Welsh mountain railway can enjoy a 20-minute round trip powered by BRB's No 2 steam engine, from Llanberis to Waterfall Halt. 
Between departures, the train and carriage will sit at the Llanberis arrivals platform where visitors can meet the loco, talk to experts from the Swiss railway and take photographs with the historic engine. 
BRB's engine is operated by a fully Swiss crew and will undertake four return trips, part-way up the mountain, every day throughout September except Fridays, with carriage spaces allocated on a first-come-first-served basis. 
Vince Hughes, Commercial Manager at Snowdon Mountain Railway, said: 
"We've been carefully planning this event with our Swiss friends for some time, so it's great to be just a few days away from unveiling the BRB loco and seeing it steaming up Snowdon for the first time." 
Nick Robb, Project Manager at Switzerland Travel Centre said: 
"It's fantastic to be bringing Loco No 2 across Europe to spend a month visiting our twin railway in Snowdonia. 
"The BRB and Snowdon Mountain Railway use the same rack-and-pinion rail system and their steam engines were built in the same Swiss factory over 125 years ago. 
"It feels right to reunite these historic steam engines after more than a century apart and we hope the public and rail enthusiasts alike will come along and sample a taste of the Swiss Alps in the foothills of Snowdonia." 
For more information about Snowdon Mountain Railway and to book tickets visit: www.snowdonrailway.co.uk or follow on Facebook and Twitter.