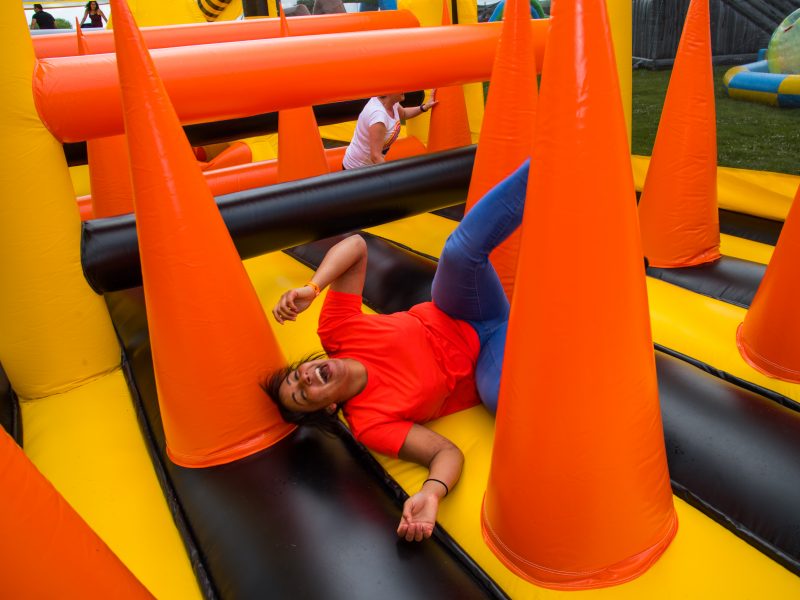 The longest continuous inflatable obstacle course in the world, The Labyrinth Challenge, is returning this summer and this year it's even bigger. 
The new course, which is over 1,000ft long and includes more than 30 fun obstacles in five-themed zones, makes its 2018 debut at Doncaster Racecourse in June. 
After this, the course will be visiting Edinburgh, Ipswich, Coventry, Reading, Chepstow and Kempton Park in Surrey. 
The pop-up attraction, owned and operated by  Simply The Best Events (STBE), was enjoyed by around 100,000 people last year and features more than inflatable challenges including hurdles, climbing walls, tunnels and slides. 
This year also sees the return of The Village, an inflatable playground which includes a Mini Labyrinth course for children aged 5-9 to enjoy. 
Dan Byrne, Tour Director for The Labyrinth Challenge, said: 
"We can't wait to bring the new look Labyrinth Challenge to a town near you this summer. 
"The giant inflatable assault course gives family and friends the opportunity to race together or just have fun tackling the wacky obstacles. 
"We've spent the winter revamping the course to ensure it's even more action-packed for UK thrill seekers. There's a new start, it's even longer and we've replaced some challenges with brand new inflatable sections.  
"A ticket gives people the chance to tackle the course as many times as they like during their hour-long slot and enjoy unlimited use of other great inflatables and attractions in The Village."  
The Labyrinth Challenge course and The Village are also available for corporate hire on Fridays, at each tour location, for between 50 and 2,000 people. 
Tickets for the Labyrinth Challenge and unlimited use of The Village are priced at £20 and £15 for the under 10s and are available online at www.thelabyrinthchallenge.com. Visit @thelabyrinthchallenge on Facebook and follow @Labyrinthcourse on Twitter or Instagram @labyrinthchallenge.