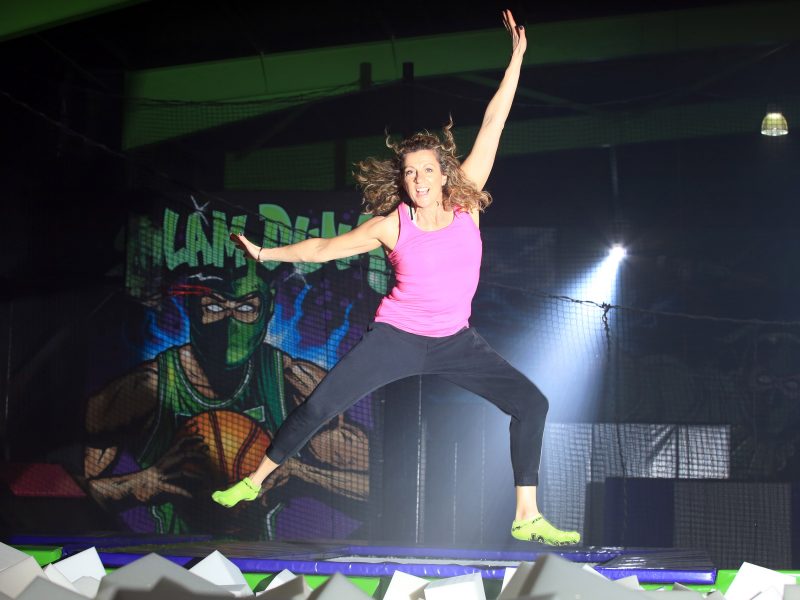 Track and field legend Sally Gunnell OBE led the opening celebrations at Flip Out Chichester as West Sussex's biggest trampoline park welcomed its first visitors.
Sally was guest of honour at the launch of the new £1.5m centre at Glenmore Business Park.
As well as trampolining, Flip Out Chichester features a dodgeball court, parkour and a climbing wall. There is also a ninja warrior course, a soft play area and a pizza cafe, overlooking the main arena.
Director of Flip Out Chichester, Richard Wootton, said: "Our opening day has been a huge success. We're absolutely thrilled that Olympic legend Sally Gunnell was able to join us as we welcomed our first visitors.
"Flip Out Chichester has certainly got off to a great start. There's been a real buzz around the arena and it's fantastic to see so many people enjoying the fun. We're looking forward to welcoming many more visitors over the coming months."
Sally Gunnell OBE said: "The facilities at Flip Out Chichester are excellent and I am sure it will be hugely popular. I am so pleased to have been part of the opening celebrations, which have been great fun."
Flip Out, which runs ten trampoline parks across the UK, is the world's fastest growing trampoline operator.
Tickets for Flip Out Chichester must be booked in advance during the first week of opening. Visit www.flipout.co.uk/chichester to be one of the first to experience Flip Out Chichester. Advance online tickets for the main arena cost £11 for one hour and £16 for two hours.
Flip Out Chichester, located at Glenmore Business Park, will be open from 9am-9pm, seven days a week. Free customer parking is available outside the venue.
Visit www.flipout.co.uk/chichester for further information. To keep up with the latest news, find Flip Out Chichester on Facebook or follow @flipoutchi on Twitter and @flipoutchichester on Instagram.