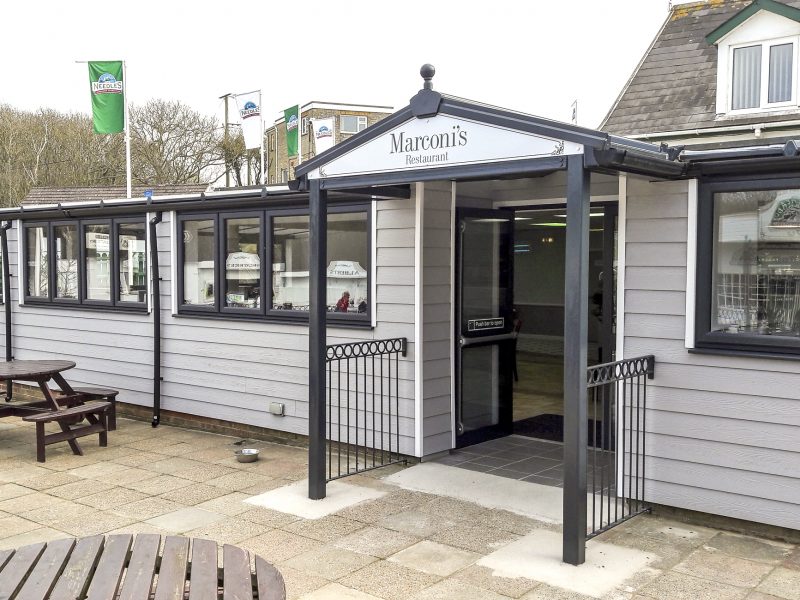 The Needles Landmark Attraction reopens for a new season in April with the launch of a refurbished restaurant and plans for the celebration of a historic event from the Isle of Wight's past. 
During the winter the attraction, which welcomes more than half a million visitors each year, benefitted from a £100,000 investment, most notably to its restaurant and sweet factory. 
The eatery has been completely overhauled and renamed Marconi's Restaurant, in tribute to Guglielmo Marconi the Italian inventor and electrical engineer who undertook pioneering work to send the first long-distance radio transmission in 1897, from a base at The Needles. 
This year also marks the 120th anniversary of that feat and, along with the opening of the new restaurant, The Needles plans to honour Marconi's achievement with a special event during the summer. 
The new Marconi's Restaurant, formerly called The Pantry, is a self-service restaurant seating up to 250 people and offering al fresco dining during warmer days. 
It offers a new menu for 2017, updated with a selection of both healthy foods and tasty treats, freshly prepared on-site each day. 
The Sweet Manufactory, famous for its Wight Mints, has also been revamped including the viewing area where younger visitors delight in watching the master confectioners create delicious sweets before their eyes. 
Marino Zanti, general manager at The Needles Landmark Attraction, said: 
"I'm really looking forward to the start of this new season as we mark the 120th anniversary of Marconi's first long-distance radio transmission at The Needles. 
"The refurbished Pantry looks superb and how fitting that we could pay tribute to the great man with plans for a special celebration later in the season. 
"The Sweet Manufactory has also had a revamp and there's been other improvements across the site to improve the experience for the tens of thousands of people we're expecting to visit."   
All attractions at The Needles will be open daily from April 1, including the chairlift to the beach at Alum Bay, the 4D Cinema, children's rides, Jurassic Golf, the Taste of the Wight outlet and Alum Bay Glass. 
Supersaver tickets are available online at The Needles website giving a 25% discount on all rides and attractions. 
For more information about The Needles Landmark Attraction visit the website: www.theneedles.co.uk, follow on Twitter @VisitTheNeedles or at facebook.com/visittheneedles