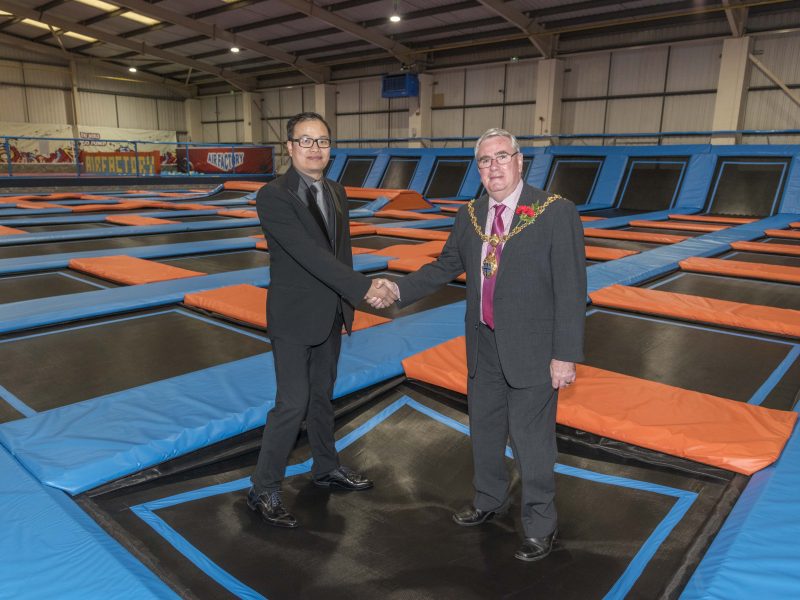 Boxed Off has helped launch another new trampoline park. Air Factory St Helens is a £1m leisure attraction set in a huge 21,000 sq ft arena filled with trampolines.
Mayor of St Helens, Cllr David Banks officially opened the new arena where 65 new jobs have been created.
Boxed Off built up awareness for the leisure attraction and gained a large amount of local media coverage across the North West.
The former warehouse site in Lea Green can accommodate more than a hundred jumpers at one time and is suitable for trampolinists of all ages.
Along with the 100 inter-linked trampolines in the main arena, Air Factory also offers jumpers the chance to play dodgeball, make a slam dunk in the basketball area, take on the ninja warrior course and bounce like the pros on Olympic-sized trampolines.
Mayor of St Helens, Cllr David Banks, said of Air Factory:
"It's wonderful to finally get to see inside this important new leisure attraction and appreciate its size. Air Factory offers the people of St Helens somewhere to go that's fun, accessible and with something for everybody to enjoy."
Mr Bin Chen, director, Air Factory UK, said:
"Welcome to Air Factory St Helens, the area's first trampoline park, I'm so pleased the attraction is now open and ready for people to experience it. Of course, there's more than just trampolining on offer thanks to a spacious balcony café serving hot and cold food and drinks as well as an events space suitable for parties and other functions.
"And remember, we're offering people who book in advance the chance to bounce for free until October 23rd, but hurry because space is running out fast."
More information is available from the Air Factory website: www.airfactory.co.uk. Further details can be found by visiting Facebook: @airfactory.uk Twitter: @airfactory_uk