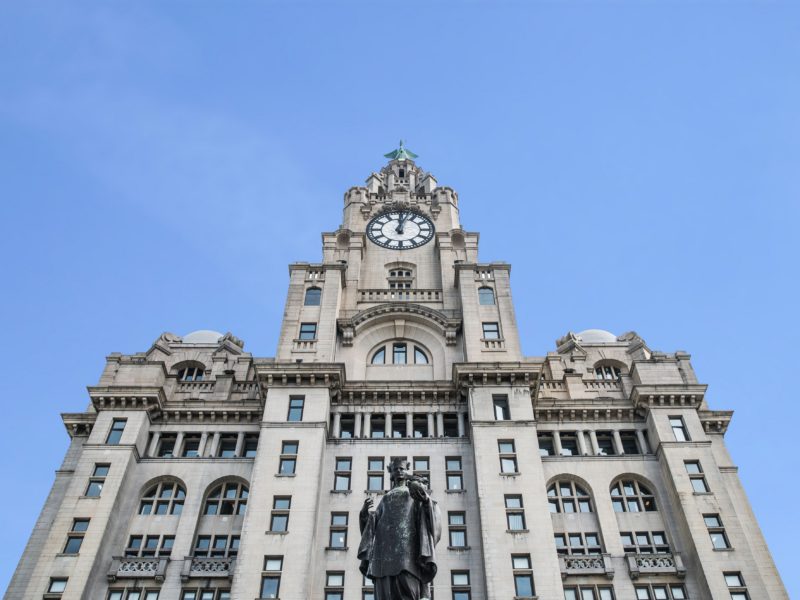 Music legend and Liverpool icon Gerry Marsden MBE will take a Ferry 'Cross The Mersey next month to officially launch RLB360, the city's latest visitor attraction.
Gerry, 76, a friend and contemporary of The Beatles who enjoyed world-wide fame in the 1960s with Gerry & The Pacemakers, will unlock the city icon giving visitors 360˚ views from the top of the iconic Royal Liver Building for the first time.
After making the short crossing from Wirral to Liverpool's Pier Head, Gerry will be serenaded by the SingMe Merseyside choir, before visiting the new RLB360 welcome centre and enjoying views from the 10th floor across the city and River Mersey.
Allan Leech, CEO of Heritage Great Britain said:
"We're proud to be bringing together three Mersey icons, the ferry, Gerry Marsden and the Royal Liver Building itself.
"People were blown away by our exclusive previews of the Clock Tower audio-visual experience and we can't wait to unveil the full 9-minute immersive show to visitors, before giving them the chance, at last, to enjoy panoramic Liver Bird's eye views across Merseyside."
Gerry Marsden MBE, said:
"I was thrilled to have been invited to officially launch RLB360 and unlock the stunning views from the city's most iconic building.
"Along with the Mersey Ferries I helped make famous, the Royal Liver Building has always been a landmark that people around the world recognise and it makes me very proud to be opening the building for local people and tourists from across the globe to enjoy."
Tickets for dates in April will soon be available to book, allowing the public to be among the first to experience RLB360, offering guided tours of the 322ft Grade I-listed building's clock tower and unlocking breathtaking 360˚ city views for the first time.
Tours begin in the new lower ground floor visitor's centre where the building's rich history starts to come to life, before guests access the Liver Building's 10th floor balcony, explore the city's history in the riverside clock room's audio-visual experience and, finally, enjoy the views from the 15th floor clock tower.
The launch event takes place on Tuesday 2 April at 12.30pm. Tickets and information about Royal Liver Building 360 are available from the website: www.rlb360.com.