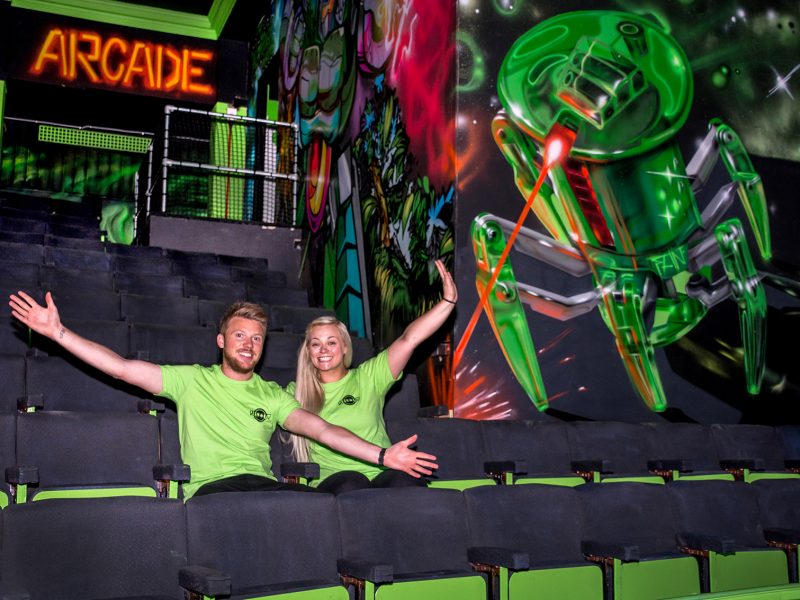 An iconic art-deco theatre in East London has reopened as one of the capital's biggest trampoline and adventure parks, with Boxed Off handling all PR in the build-up to the grand unveiling.
The Granada Theatre in East Ham, which once hosted bands like The Beatles, Rolling Stones and Black Sabbath, was transformed into Flip Out London E6 this summer following a £3 million renovation project.
The East London attraction features the city's first indoor caving experience and a giant super-slide with an almost vertical 30ft drop, spanning two floors. The three-storey arena also includes two trampoline areas, 12 climbing walls, a laser maze, ninja warrior course, cyber tower and free-running 'stunt-box' zone.
The indoor caving experience at Flip Out London E6 offers adventurers of all ages a chance to explore a network of twists and turns, made to look just like a real underground cave system but set within the bowels of the theatre itself.
The attraction also features an enchanted castle-themed soft-play zone, inspired by the original art-deco staircases at the venue, which have been carefully restored. Original murals depicting a fairytale castle have also been incorporated into the design of the soft play zone, which includes building blocks, play tunnels, balance beams, slides and a ball pool especially for the under 5s.
The former East London theatre, which has been given a new lease of life after almost a year of disuse, is set to become a hub of the local community once again, creating 100 new jobs.
Matt Miller, general manager at Flip Out London E6, said: "The new trampoline and adventure park is looking spectacular and we are hugely excited about welcoming visitors along to come and join in the fun.
"The Granada Theatre's rich heritage is evident throughout the venue with many of the building's original features being carefully restored or repurposed. Instead of demolishing the stage where music icons once played, it has been converted into a foam pit. There is also a mural depicting some of the top musicians who have played at the venue and there are even theatre seats, where spectators can sit and watch the action.
"It really is a unique attraction and we're looking forward to seeing people enjoying this stunning art-deco building once again. We hope the venue will become a hub for the local community and attract visitors from further afield as well."
Flip Out London E6 also features seven individually-themed private party rooms as well as three themed cafes, serving freshly-prepared food.
Flip Out is officially the fastest-growing trampoline park operator in the world with more than 60 arenas in eight countries.
For more information visit: www.flipout.co.uk/LondonE6, where advance tickets are now available. To keep up to date with the latest news from Flip Out London E6, find flipoutlondonE6 on Facebook and Instagram or follow @flipoutlondonE6 on Twitter.