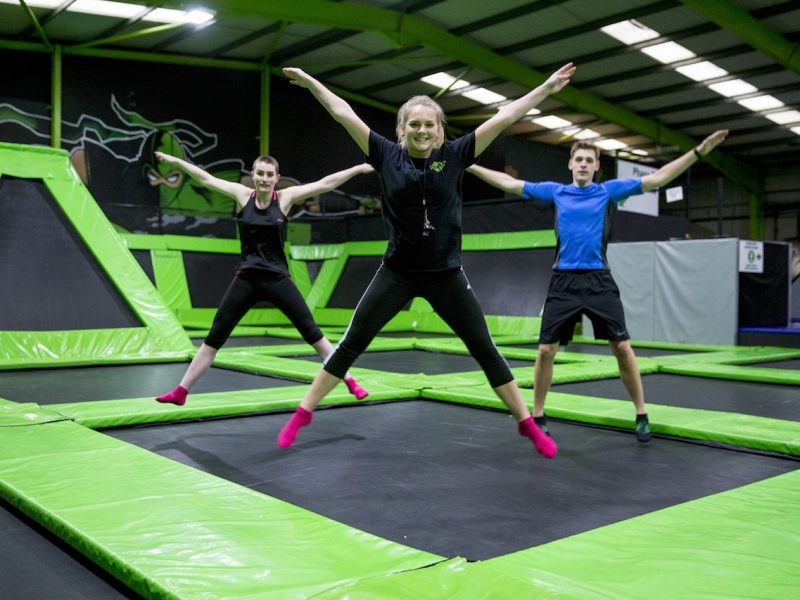 Flip Out Doncaster, South Yorkshire's newest trampoline and activity park, is launching a new program to help customers get 'Flip Fit'. 
The 45-minute sessions are suitable for those aged 16 and over and will be led by qualified instructors. 
The classes involve a range of trampoline-based exercises, including a warm-up and are suitable for people of all fitness levels.  
Jamie Hardy, general manager at Flip Out Doncaster, said:  
"We are really looking forward to launching these sessions as there has been a great deal of interest in them since we opened.  
"Our trampoline and activity park is a great place to have fun, but it is also an excellent way to keep fit in a new and exciting environment.  
"Ten minutes on a trampoline is said to be equal to 30 minutes on a treadmill, and I think it's safe to say that a workout here at Flip Out is much more fun than a gym session." 
The new Flip Fit classes will be held every Tuesday evening between 7 and 8pm and will commence on September 11.  
As well as fitness classes and trampolining, Flip Out Doncaster offers fun for all ages including performance trampolines, stunt boxes, a free-running area, a Ninja TAG interactive assault course, soft play and plenty more.  
The park also offers Toddler Time every weekday during term-time between 9am and 1pm.  
Flip Fit sessions at Flip Out Doncaster are priced at £5. For more information and to book online, please visit www.flipout.co.uk/doncaster and receive regular updates on Facebook, Twitter and Instagram @flipoutdonny.