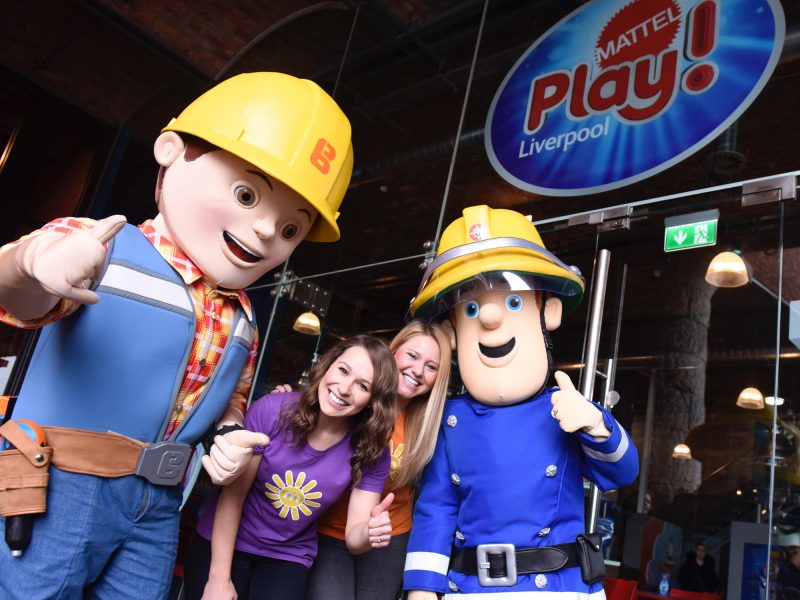 Boxed Off Communications has successfully launched Mattel Play! Liverpool, the first family attraction of its kind in Europe.
Children's TV presenters Jen and Olivia from Channel Five's Milkshake! were on hand to cut the ribbon and welcome people into the £1.5m family entertainment centre at Albert Dock Liverpool.
The attraction invites children to explore and enjoy three themed zones featuring iconic Characters and locations familiar to fans of Thomas & Friendsᵀᴹ, Bob the Builderᵀᴹ and Fireman Samᵀᴹ.
Each zone offers its own individual feel and design filled with activities which allow children to get hands-on and experience what it's like to play alongside their favourite Characters.
Based within Albert Dock Liverpool, the 13,000 sq ft attraction is the first of its kind in Europe and, along with the three Character zones, offers a café, a retail area, party rooms and a green screen experience.
Milkshake! presenter Jen Pringle comments:
"Having worked with Bob the Builder and Fireman Sam for many years, it's great they're now getting their very own attraction.
"We're sure families who come here will have an amazing time."
Graham Dentith, General Manager of Mattel Play! Liverpool, says:
"We're so pleased and excited to be finally opening our doors to families.
"I hope everyone will get as much fun and enjoyment from visiting Mattel Play! Liverpool as we had from creating it."
Heritage Great Britain PLC is the owner and operator of Mattel Play! Liverpool, along with iconic tourist attractions across the UK including Land's End, The Needles Landmark Attraction and Snowdon Mountain Railway.
Allan Leech, CEO of Heritage Great Britain, comments:
"After months of planning and preparation, we're delighted to reveal this new concept which is a first for Liverpool.
"Everyone's pulled together to make this happen and we're grateful to all our city partners, local contractors and suppliers, and to Lappset Creative who built the attraction.
"Thanks also to our partners Mattel who've been incredibly supportive throughout."
More information and ticket bookings are available from the Mattel Play! Liverpool website: www.mattelplayliverpool.com. Further details can be found by visiting Facebook: MPlayLiverpool and Twitter: @MPlayLiverpool