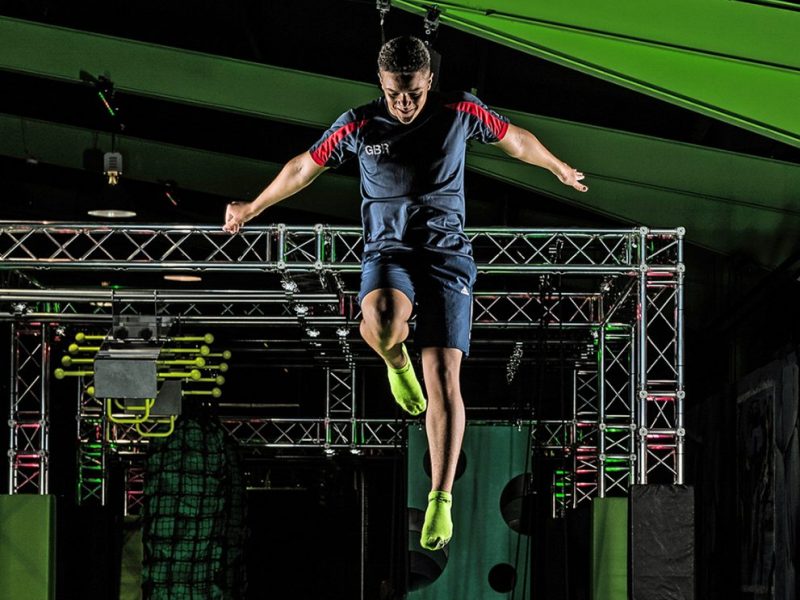 Young star of British trampolining Corey Walkes officially opened Flip Out Somerset, the county's first trampoline park, this weekend.
Corey, from Radstock in Somerset, entertained the first customers through the doors of the new £1.5m attraction with some of the moves which helped him to a first place finish at last month's British Championships.
Sixteen-year-old Corey has been officially selected to represent Great Britain at his fourth World Age Group Championships in Bulgaria this November, but was happy to take time out from his busy training schedule to cut the ribbon at the new arena.
Flip Out Somerset offers 36,000 sq ft of active fun for all ages set across two floors and is the 17th centre to be opened in the UK by Flip Out, the world's fastest growing trampoline park operator.
Located within Chelston Business Park, the new leisure attraction offers five party rooms, an under-5s trampoline area, plus an onsite café serving a range of hot and cold refreshments with views across the trampoline arena.
Activities within the arena include one of the largest free-running 'stunt-box' zones in the UK, battle beams, dodgeball, slam dunk basketball, a ninja warrior course, two Olympic-sized trampolines and 106 inter-linked trampolines.
General manager of Flip Out Somerset, Jeremy Appiah, said:
"Our opening day has been a huge success with hundreds coming along to join in the fun.
"We're delighted that talented young trampolinist Corey Walkes could join us to officially open the venue and welcome our first budding bouncers.
"It's great to see so many people enjoying the arena and we look forward to welcoming many more visitors from across the region over the coming months."
Corey Walkes said:
"It was a pleasure to be part of the opening day celebrations at Flip Out Somerset.
"The venue has great facilities and I'm pleased the county now has its own arena for young people and families to exercise, have fun and get into trampolining.
"I'm also grateful to Flip Out who have agreed to contribute towards my costs for the World Championships where hopefully I can bring back gold for GB."
Flip Out Somerset is open 9am-9pm Monday to Saturday and 9am-8pm on Sundays.
Visit www.flipout.co.uk for further information. Find Flip Out Somerset on Instagram or follow @FlipOutSomerset on Facebook and Twitter.