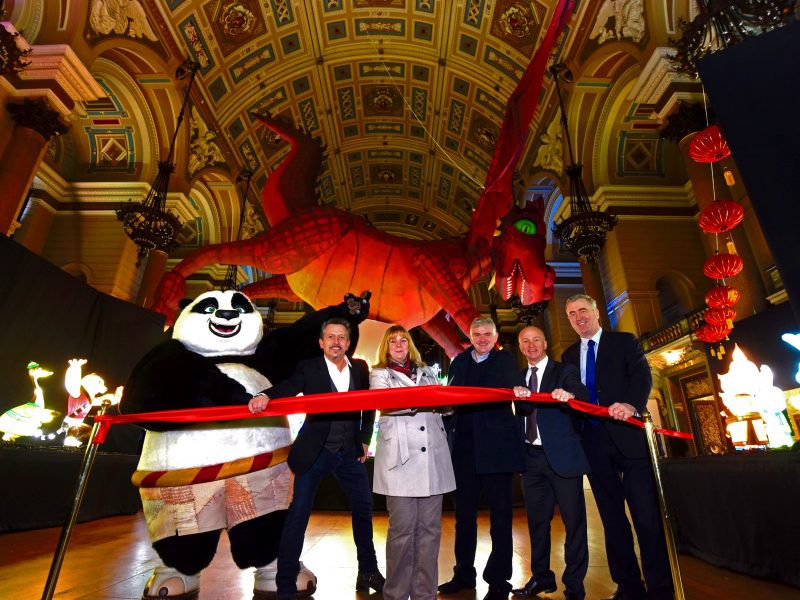 Boxed Off Communications has launched Liverpool's flagship seasonal attraction, DreamWorks Lights.
Po, the animated star of Kung-Fu Panda was on hand to cut the ribbon and welcome people to the event at St George's Hall.
Hundreds of ticketholders were waiting outside the hall to be amongst the first to experience the unforgettable lantern show, which includes the huge ruby coloured dragon from Shrek, 40ft long and suspended from the ceiling of the Great Hall.
The event features 100 Chinese lantern versions of characters from the DreamWorks movies Shrek, Kung-Fu Panda and Madagascar and thousands are expected to visit over the next two months.
DreamWorks Lights is a first for the UK and part of One Magical City, a programme of festive activity which takes place right across Liverpool.
Joe Anderson, Mayor of Liverpool, said:
"Bringing this event to the city is a major coup for Liverpool and is sure to pave the way for more experiences of this stature."
Chris Brown, director of marketing, Marketing Liverpool said:
"DreamWorks Lights is a wonderful addition to this year's One Magical City offering and an unmissable experience for families to enjoy.
"We hope that this magnificent attraction will encourage tourists and day visitors alike to sample everything Liverpool has to offer during the festive season."
Alan Smith, St George's Hall manager, said:
"There's been huge excitement over recent weeks and it's wonderful to see the lantern scenes in place and lit.
"The attraction really is packed with breathtaking sights and the Grade-I listed hall is the perfect setting for this unique seasonal family attraction."
DreamWorks Lights will be open daily at 10am until 7pm until 15th January 2017.
Tickets can be booked online at www.dreamworkslights.com and cost £10 for adults and £8 for children.