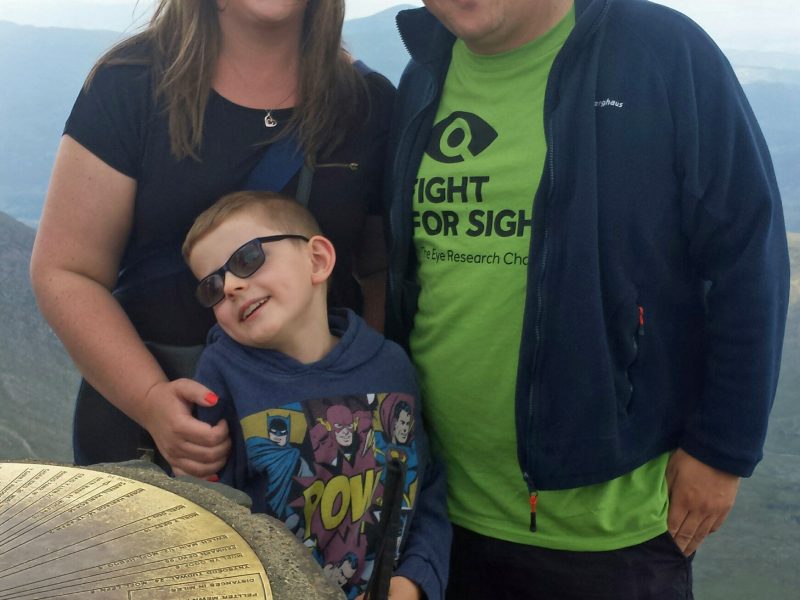 A fundraising father from Hertfordshire has taken his partially-sighted son up Snowdon to experience the views from the mountain's peak with BBC TV's Songs of Praise.
Jackson Coghlan, aged 8, and his dad Kevin took the Snowdon Mountain Railway to the summit and were joined by a BBC television crew.
Jackson was born with a rare sight defect, Leber's Amaurosis, which has left him almost blind and Songs of Praise has been following his family's story.
Kevin is in training to climb Kilimanjaro, Africa's highest mountain, in January next year to raise money for the charity Fight For Sight which funds research into preventing blindness.
Much of Kevin's preparation to tackle Kilimanjaro has been done on the slopes of Snowdon and Jackson was keen to accompany his father to the top of the mountain.
Kevin said:
"I wanted to take Jackson, to the top of Snowdon to help him understand what his daddy is trying to achieve when I climb Kilimanjaro.
"He loved every minute of the trip and especially the amazing views where he was genuinely speechless, which doesn't happen often!
"We would like to say a huge thank you to Snowdon Mountain Railway for making the filming and journey to the peak so amazing and for helping us achieve this goal."
Alan Kendall, general manager at Snowdon Mountain Railway, said:
"When the BBC contacted us to tell us about Jackson and Kevin's story, we were only too happy to help them reach the summit in this our 120th year.
"We're so glad Jackson was able to join his father and experience the views from the top of Snowdon, and we wish Kevin every success with his Kilimanjaro climb."
You can follow Jackson and Kevin's story through their blog: https://ourkiliclimbblog.wordpress.com or Facebook: https://facebook.com/climb4jackson.
Their trip up Snowdon is available to view on the BBC iPlayer for a limited time: http://www.bbc.co.uk/iplayer/episode/b07hpnjn/songs-of-praise-19062016#playt=0h9m54s
For more information about Snowdon Mountain Railway visit: www.snowdonrailway.co.uk or follow on Facebook: SnowdonMR or Twitter: @SnowdonMR