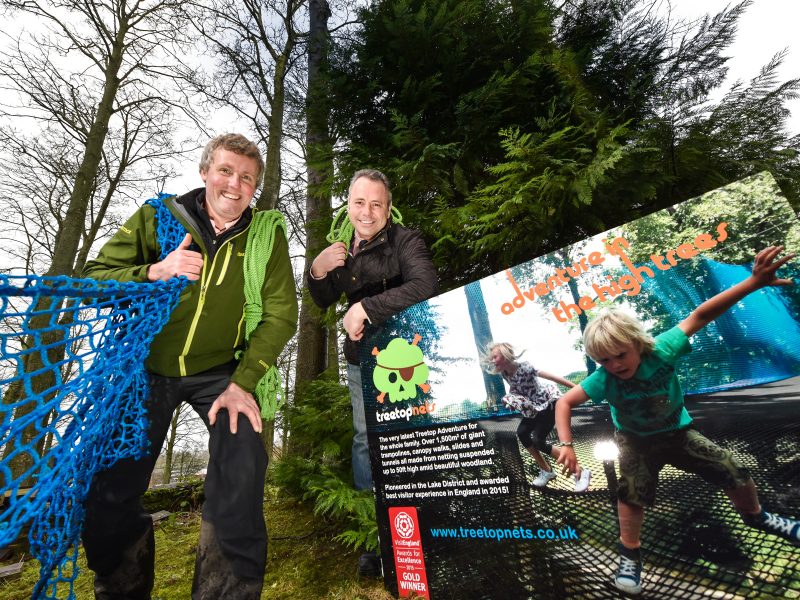 Treetop Nets, has announced plans to expand beyond its current Lake District base to launch a new site right next to Lightwater Valley theme park near Ripon.
The attraction features giant trampolines, walkways, slides and tunnels all made from netting and suspended between trees up to 40 ft above the ground.
Treetop Nets, part of Treetop Trek Ltd, was launched in June 2014 winning the Best Tourism Experience at last year's VisitEngland Awards for Excellence.
Mike Turner, owner of Treetop Trek Ltd said:
"As Treetop Nets continues to expand, it's great to finally find a site which is already well established as a visitor destination.
"More than 55,000 people have already enjoyed our first attraction in Cumbria and we wanted to give others the opportunity to experience it.
"We're really looking forward to bringing a new level of adventure to the area and can't wait to see our plans come to fruition.
"Four new jobs are being created and we're looking for people with a good head for heights to apply and help us make Treetop Nets a must-visit attraction in Yorkshire."
Mark Bainbridge, general manager, Lightwater Valley theme park, said:
"We're thrilled to be bringing only the second course of its kind in the UK to the Lightwater Valley site.
"It's a fantastic addition to the successful attractions which are already here. The theme park, Jurassic Adventure Golf course, Birds of Prey and Country shopping Village all of which enjoyed increased visitor numbers year on year.
"We know Treetop Nets will drive more people from across the region to North Yorkshire and make the Lightwater Valley destination a must visit for all the family."
Building is due to start at the new Ripon site this month with the attraction scheduled to open in the summer.
To find out more, visit www.treetopnets.co.uk.
If you'd like Boxed Off to create a media release like this to benefit your business then please get in touch.