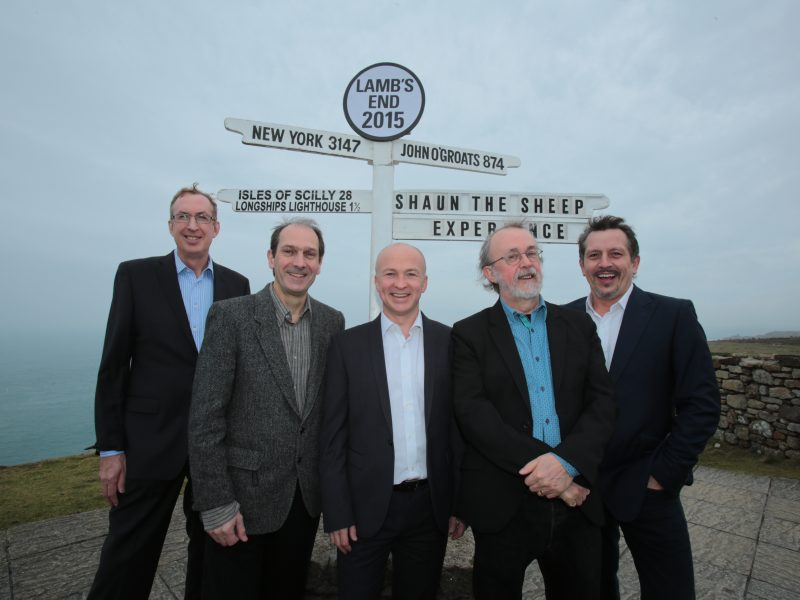 The half a million pound experience, which is a joint venture between Aardman Animations and Heritage Great Britain, is the latest investment by the Liverpool based operator.
It's being hailed by tourism chiefs in Cornwall as a "national brand" showing "significant confidence" in the region.
The iconic Land's End signpost was also rebranded to mark the occasion.
Aardman co-founders Peter Lord CBE and David Sproxton CBE joined Heritage Great Britain directors to witness the famous signposts transformation.
Allan Leech, CEO, Heritage Great Britain said:
"The Shaun the Sheep Experience is part of a significant investment programme across all of our sites including The Needles landmark attraction in the Isle of Wight and Snowdon Mountain Railway."
David Sproxton CBE from Aardman said:
"We're delighted to partner with Heritage Great Britain who has a strong track record of running successful attractions."
Malcolm Bell, Head of Visit Cornwall said:
"The Shaun the Sheep experience offers a new dimension to one of Cornwall's most iconic landmarks.
"This investment represents significant confidence in Cornwall and to have a national brand such as Aardman Animations in Cornwall is a major coup.
"I'm sure it will attract many new visitors to Land's End both young and young at heart."
More information about Heritage Great Britain can be found by visiting www.heritagegb.co.uk or by visiting our Facebook page, Facebook.com/heritagegb. You can also follow us on Twitter @HeritageGB