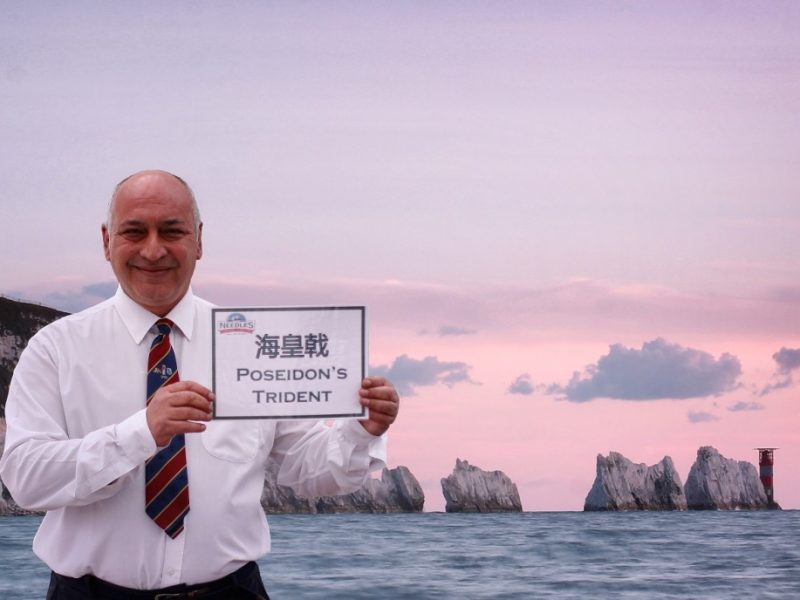 A new Chinese name for The Needles has been revealed following ten weeks of voting in China.
National tourism agency VisitBritain has revealed the new Mandarin name for the landmark attraction as part of its 'GREAT Chinese Names for GREAT Britain' campaign.
Out of three possible naming suggestions chosen by the Chinese public, The Needles has decided to adopt the new Mandarin name Hai Huang Ji, translated in English as Poseidon's Trident. This was the most popular receiving almost a thousand votes.
Now that the winning names have been revealed, VisitBritain has been working together with 101 attractions across the country to decide how they might use these results and the publicity that the campaign has generated.
The Needles has chosen to embrace its new Mandarin name and is briefing staff on the new name and adding it to the attraction's website and using on social media.
Marino Zanti, general manager of The Needles landmark attraction commented:
"As the most visited landmark and attraction on the Isle of Wight, we're thrilled to have been featured in this high profile campaign. We've seen the Chinese market grow dramatically over the past two years and we hope to welcome many more Chinese visitors to the Needles in coming seasons. 'Poseidon's Trident' is a fitting alternative name for the Needles rocks as an association with the 'God of the Sea' befits a national coastal landmark of our stature."
Joss Croft, Marketing Director at VisitBritain said:
"The campaign has given The Needles huge exposure across China and the opportunity to create a unique affinity with potential Chinese tourists. We hope the attraction's new Mandarin name raises its profile and enables it to compete effectively for the world's biggest outbound market, which will deliver local growth and jobs across the south of England."
China is now the world's largest outbound market, with visitors to Britain already spending £500 million. VisitBritain has ambitious plans to double the value of that market by 2020 and to ensure that growth is spread across the nations and regions.
For more information about The Needles landmark attraction visit www.theneedles.co.uk or follow on Twitter @VisitTheNeedles