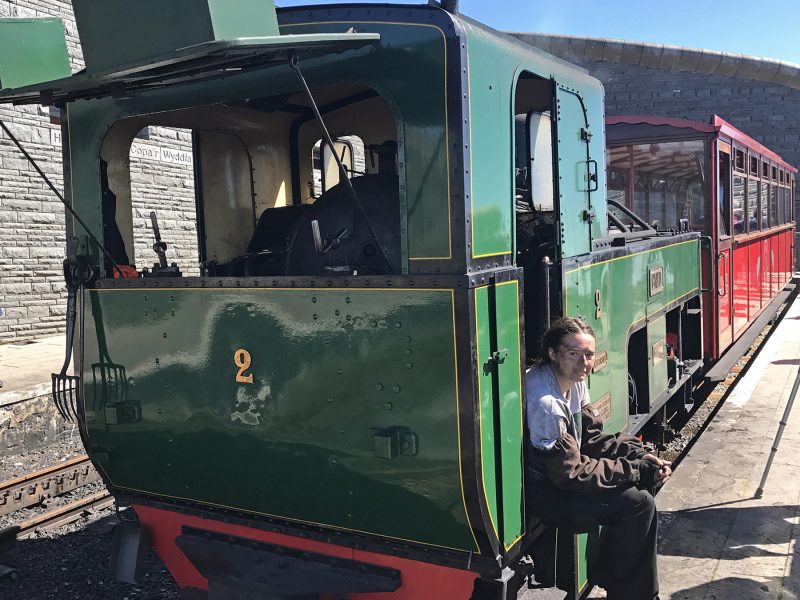 Liz works at Snowdon Mountain Railway stoking the fires on the vintage steam engines as they climb Wales' highest peak. She is Snowdon Mountain Railway's very first female stoker in its 122-year history.
Liz is 28 and originally from Walsall in the Midlands. She loves steam engines and previously volunteered at Bala Lake Railway, where she first learnt to fire the little Quarry Hunslet engine. As her confidence grew, she went on to volunteer at the Llangollen Railway, and eventually became a cleaner, the role where you learn how to fire a standard gauge engine.
She's now a full-time employee of Snowdon Mountain Railway, commuting every day to Llanberis from Bala, on the opposite side of Snowdonia National Park. Her job is very demanding and requires continual concentration to keep the engine on the move. She has to lay the fire correctly on the steamer, then stoke it throughout the journey, making sure to maintain the correct temperature and pressure.
Liz will jump out at each of the five station stops on the route to Snowdon's summit to put water into the steam engine. On return to the station she has to clean out the fire, the engine tubes and empty the smoke box.
She also helps to clean and maintain the locomotive while it is resting in the station and, because the steam engines stay lit during the summer season, Liz will monitor them while they're in the engine sheds in Llanberis.
Why doesn't Liz like being called a firewoman or fireperson?
"Silly political correctness! No need for it! Woman still ends with man doesn't it?"
Why did she want so much to work on steam railways?
"They're so fascinating and unusual. My love of steam engines started when I was little, when I used to visit the Severn Valley Railway in Shropshire, with my grandparents and younger brother".
Why don't more women work on steam engines or in similar roles?
"There are more women these days who have an interest in the railway world. The Talyllyn Railway in Tywyn have a lot of female volunteers, as does the Ffestiniog Railway, Llangollen Railway, and many more railways around the UK, including main line work!"
If you would like any further information about Liz and her important role at Snowdon Mountain Railway then please contact Paul Baker on 0151 304 7017.