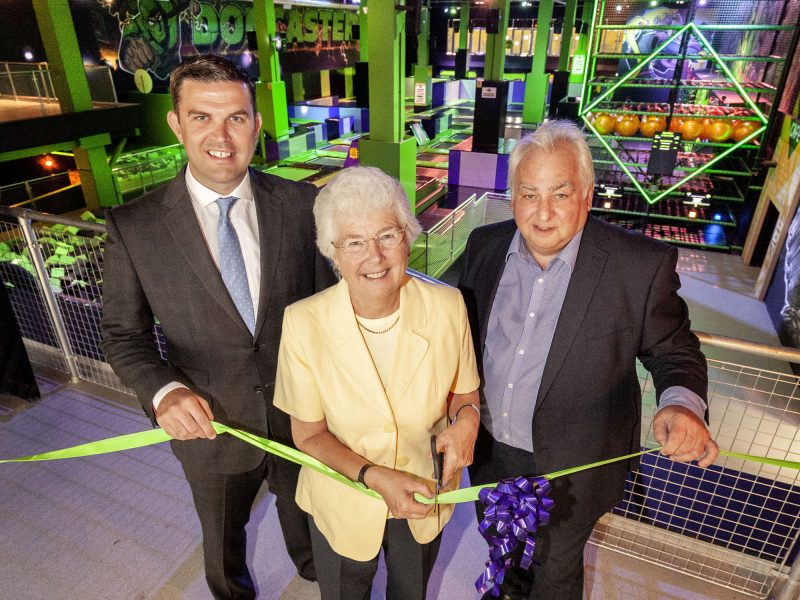 The Mayor of Doncaster today joined hundreds of people at the opening of South Yorkshire's new £1.5m activity and trampoline park Flip Out Doncaster.
Mayor Ros Jones was taken on a tour of the 30,000 sq ft attraction at Frenchgate shopping centre before cutting the ribbon to officially open one of the biggest Flip Outs in the UK.
The arena is much more than just a trampoline park, boasting the North of England's first NinjaTAG attraction – an indoor assault course which tracks the progress of players using wearable technology.
The park also includes bouldering and traverse climbing walls, two 20ft cyber towers for vertical races between friends, plus a bed of 50 inter-connected trampolines.
Wearable technology is in play throughout the park with customers able to track their scores on the cyber towers and use FlyCam to record their skills on seven different activities around the arena before sharing the videos on social media.
Keith Wortley, owner of Flip Out Doncaster, said:
"Our opening day has been a huge success with people coming from across the region to experience what's on offer at the new attraction.
"With the exciting addition of the North's first NinjaTAG, we feel Flip Out Doncaster is the ultimate entertainment destination in Yorkshire and much more than a trampoline park.
"It's a real family day out with trampoline stunt boxes for learning and practicing free-running skills, battle beams, foam pits and a large soft play area for toddlers.
"We look forward to welcoming many more visitors in the coming months."
Mayor of Doncaster Ros Jones CBE said:
"Flip Out Doncaster is such a great addition to the town's leisure offer and I'm thrilled to officially open it.
"It's great for the town and it was wonderful to see so many people of all ages enjoying themselves."
Karen Staniforth, assistant general manager at Frenchgate:
"We are delighted to be welcoming Flip Out to its new home within Frenchgate.
"It's exciting to be further adding to our leisure offering, to make the centre a more varied and fun place to visit."
The lower level of the arena features four party rooms and a 160-seat café situated next to the soft play area and NinjaTAG course.
Sessions at Flip Out Doncaster start from £10 for one hour.
For bookings visit: www.flipout.co.uk or check out Flip Out Doncaster's social media via Facebook, Twitter or Instagram: @flipoutdonny