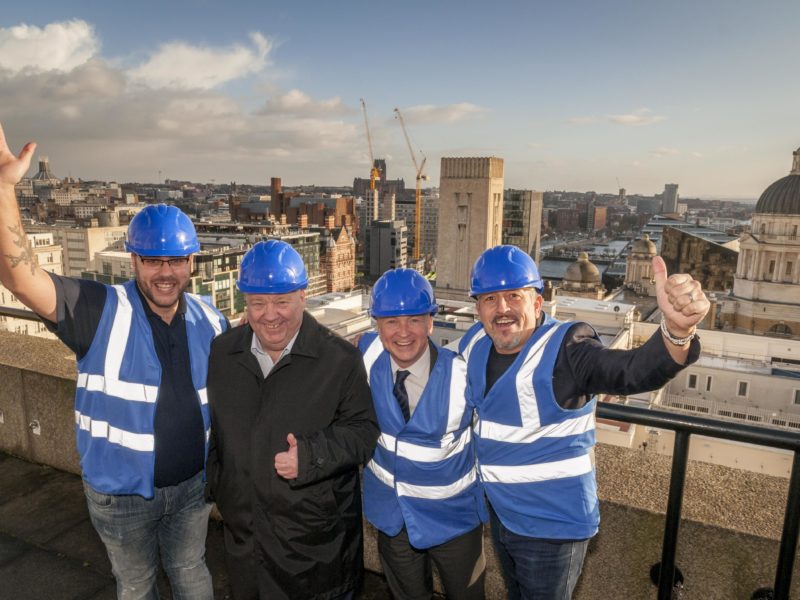 The Mayor of Liverpool has visited the Royal Liver Building to check on progress at the city's newest tourist attraction, following a £1m investment.
With work underway to redevelop parts of the building into a major visitor experience, Mayor Joe Anderson met with Heritage Great Britain, who will be opening Royal Liver Building 360 in the spring, to see how the project is starting to take shape.
The attraction will offer guided public tours of the building's clock tower and 15th floor for the first time, unlocking breathtaking 360° views across the River Mersey, Liverpool docks and the city beyond.
Much of the development work is happening on the lower ground floor, where a new visitor centre is being created, and in the clock tower where guests will be shown an immersive, projected, audio-visual film experience.
Mayor of Liverpool, Joe Anderson, said:
"It's great to see everything is going to plan with this exciting and innovative new attraction.
"The Liver Building is the iconic Liverpool site, and visitors and residents alike are finally going to be able to see this incredible view over the city we call home.
"Royal Liver Building 360 is going to be a major addition to the city's leisure and tourism offer when it opens next year and I wish them every success."
Allan Leech, CEO of Heritage Great Britain, said:
"I'm glad Mayor Anderson could drop by to see how things are progressing and discuss our future plans.
"We want to ensure Royal Liver Building 360 is a world-class experience and at the top of anyone's bucket list, whether they're a local, a day-tripper or a tourist from further afield.
"We recently sponsored Liverpool's River of Light festival and aim to maintain close links both with the city council and other leading Merseyside events and attractions going forward."
Tickets for Royal Liver Building 360 will go on sale in January 2019 ahead of an opening in spring.
The tour will take approximately 70 minutes and is limited to groups of 14 people per time slot.
Sign up to receive the latest information online: www.rlb360.com