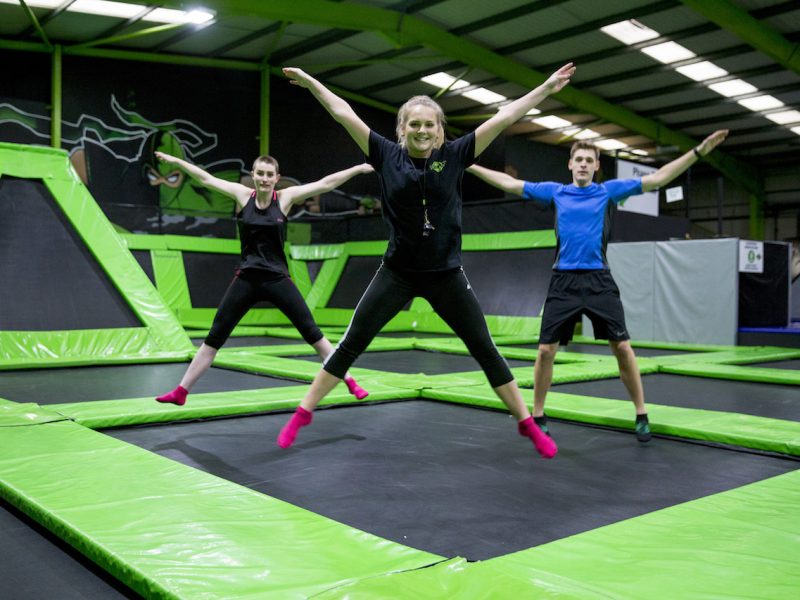 Flip Out, Southampton's biggest trampoline park, has launched a programme of work out sessions to encourage people across the region to get active.
The new 'Flip Fit' classes, which are aimed at adults, are run by qualified trampoline fitness instructors and will take place four times a week.
The 60 minute sessions are designed to offer a fun way to get in shape and are suitable for anyone over the age of 15, regardless of fitness level or ability.
Director at Flip Out Southampton, Richard Wootton, is confident that the new fitness classes will inspire people to get active. He said:
"Our 'Flip Fit' classes are a great alternative to a work out at the gym, whether you want to get in shape or you're simply looking for a new way to keep active.
"Trampolining is a great way to stay fit; jumping for just 20 minutes brings the same health benefits as running for an hour.
"More importantly, trampolining is great fun and if exercise is enjoyable, you're more likely to stick at it, which is fantastic for overall fitness. If a work out session at the gym fills you with dread, why not give a Flip Fit trampoline fitness session a try!"
The new trampoline fitness classes at Flip Out in Chandlers Ford have been welcomed by Eastleigh Borough Council and Active Nation, the charity which campaigns to increase participation in sport and exercise.
As well as trampolines, Flip Out is also packed with slam-dunk basketball, kids' and adults' foam pits and a 15m tumble track.
Flip Fit classes at Flip Out Southampton start from £6 per session. Classes take place every Monday (8pm), Tuesday (9am) and Thursday (9am and 8pm).
Find out more on the Flip Out Southampton website: www.flipout.co.uk/southampton/. Further details can be found by visiting Facebook: @southamptonflipout or Twitter: @FlipOutShampton or Instagram: flipout_southampton