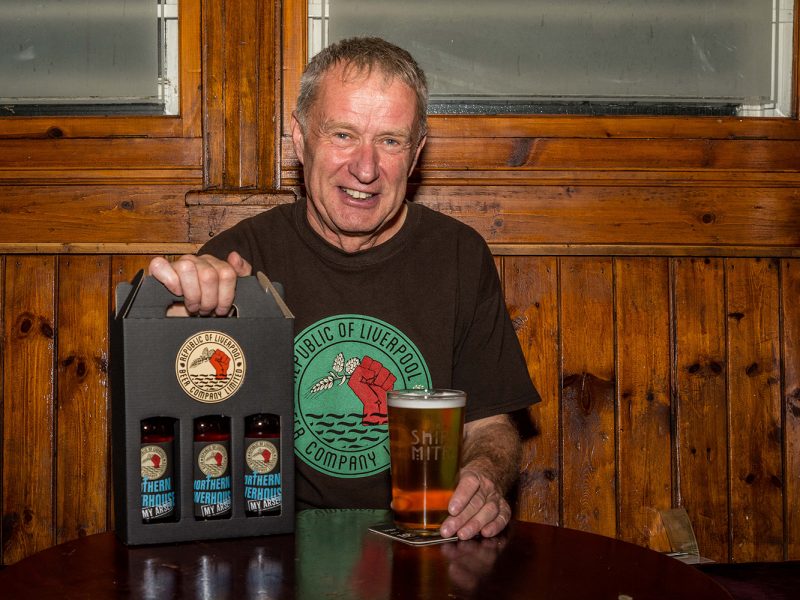 Boxed Off has helped launch the first brew from Republic of Liverpool Beer Company and it's certainly a cheeky little drop.
It's called Northern Powerhouse… My A*se! and is the first in the brewer's series of 'rebel beers' which is set to hit the region over the coming months.
The new ale was revealed at a special event in Liverpool's Ship & Mitre pub, where regulars and invited guests were given the first opportunity to taste the flagship brew.
Tony Rothwell, director, Republic of Liverpool Beer Company said:
"The Northern Powerhouse is just one of the projects that was supposed to benefit us in Liverpool which, thanks to Brexit, now seems to be more of a pipe dream.
"We're interested in how Westminster politics affects our city and we know that discussing politics is more fun and most passionate over a pint or two.
"That's where the idea of Republic of Liverpool Beer Company came from and I think our first beer 'Northern Powerhouse… My A*se!' sums up our message perfectly."
Bottles of the new beer are being sent to Lord Neill, the ex-Treasury Minister and champion of the Northern Powerhouse and to the former Chancellor George Osborne, who initially came up with the idea.
The new ale is available now in 10 pubs and bars across Merseyside.
And there's more to come with a new handcrafted rebel beer already in the pipeline from the brewers along with a range of t-shirts on sale at their website for Scousers to show their support for the Republic of Liverpool.
Why not join the Republic and help come up with names for the next rebel beer at their website: www.therepublicofliverpool.com or on Facebook: @TheRepublicofLiverpoolBeerCompanyLtd
For more information please contact Paul Baker or Richard Clein on 0151 304 7017 or 07803 729133.