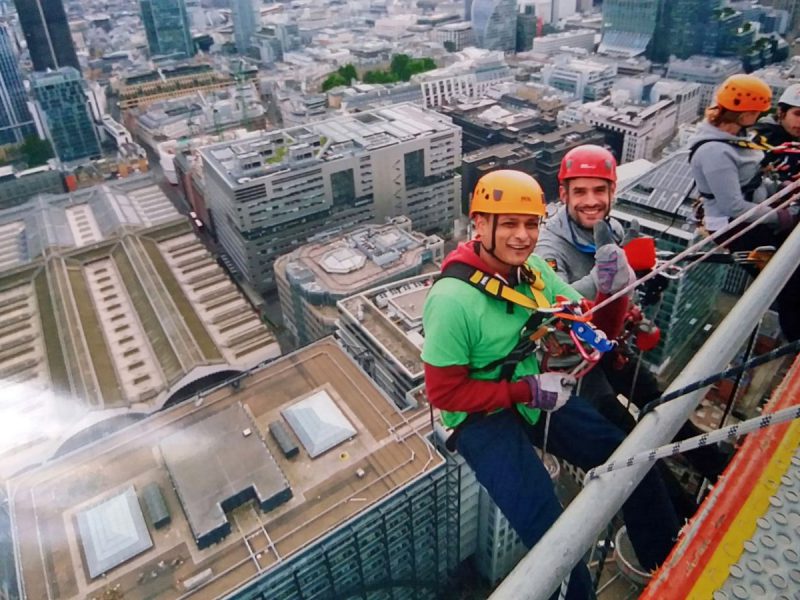 East London trampoline and adventure park Flip Out London E6 has announced a new charity partnership with local children's hospice Richard House.
Staff at Flip Out London E6 marked the announcement by abseiling down one of London's tallest buildings, to raise funds for the Beckton-based hospice.
The four staff members clambered over the edge and descended 540ft from the top of Broadgate Tower in the centre of London's financial district.
All four staff members made it safely to the ground, raising around £1,000 for Richard House in the process.
From their base in East London, Richard House delivers specialist care for babies, children and young adults with life-threatening or life-limiting conditions, while supporting their families through counselling, therapy and bereavement support.
Flip Out E6 will maintain close links with the hospice and fundraise regularly for it, installing collection boxes on site, raffling prizes such as corporate hire of the trampoline park to benefit the charity and providing free sessions to the children and families of Richard House.
Matt Miller, general manager at Flip Out London E6, said:
"Congratulations to our four fearless staff members Ashleigh Black, Ryan Dench, Faizah Kohlil and Eve Hebblewhite who braved the heights to raise vital funds for our new charity partner, Richard House.
"We are a very community-focused, family-friendly business and wanted to work with a local charity in order to give something back, so Richard House feels like the perfect match.
"The work they do for children with serious illnesses is so important and we wanted to get involved to offer these young people and their families somewhere they can come for an hour or two, enjoy the trampolines and have some fun."
Jo Inskip from Richard House, said:
"We are very grateful for this support as the money will go towards ensuring we can provide the necessary support to children with life-limiting illnesses and to their families."
If you would like to find out more information about Richard House or make a donation, visit their website: www.richardhouse.org.uk.
For more information about Flip Out London E6 visit: www.flipout.co.uk/london-e6 or follow @flipoutlondonE6 on social media.