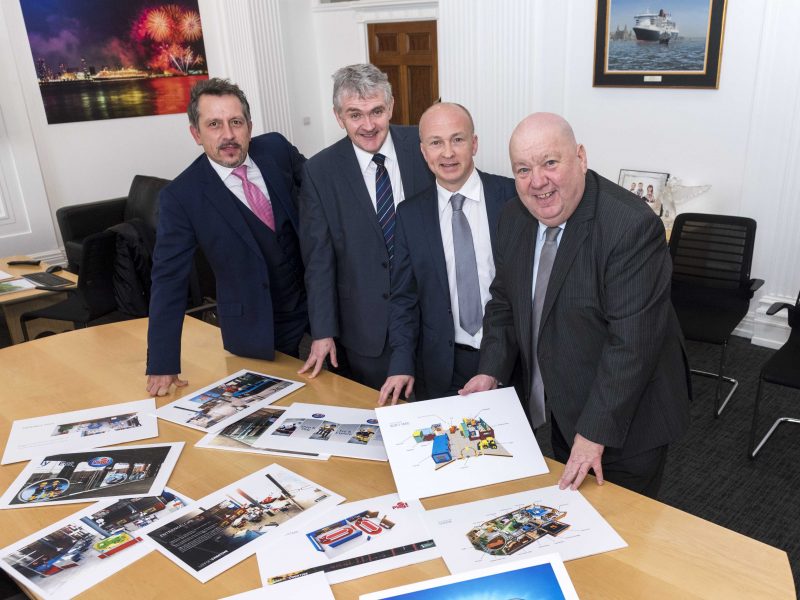 Boxed Off client Heritage Great Britain PLC has met with the Mayor of Liverpool who welcomed their £1.5m investment to bring Europe's first Mattel-branded family entertainment centre to the city.
The success of the city's visitor economy and Heritage Great Britain's tourism experience were major factors in the global toy brand's decision to choose the company as its partner and Liverpool as the destination.
The interactive 13,000 sq ft attraction is due to open at the Albert Dock in spring.
Twenty-five new jobs will be created, 15 of them permanently, at Mattel Play! Liverpool which will feature Thomas & Friendsᵀᴹ, Bob the Builderᵀᴹ and Fireman Samᵀᴹ.
Owners and operators of the new attraction, Heritage Great Britain PLC, are proud of the company's Liverpool roots and CEO Allan Leech said:
"We've been based at the Albert Dock for 15 years running iconic tourist attractions and award-winning destinations across the UK including Land's End, John O'Groat's, The Needles and Snowdon Mountain Railway.
"As a founding member of the Mayor's 100 Club, Heritage Great Britain is committed to playing its part in the future success of Liverpool.
"We are using the council's Liverpool in Work scheme, discussing how we can help support the city's Cornerstone project to help support vulnerable children and we are working with Culture Liverpool on future events."
Mayor of Liverpool, Joe Anderson OBE said:
"This investment by Heritage Great Britain PLC, working with such a famous children's brand, shows significant confidence in the city region.
"I'm proud that it is a Liverpool-based company bringing what will be a world-class attraction to the city. We look forward to continuing to work with Heritage Great Britain to make Mattel Play! Liverpool a success and an attractive family-friendly addition to the city's already thriving waterfront."
Chris Brown, Director, Marketing Liverpool said:
"This is yet another attraction which helps put Liverpool on the map. The fact that Mattel could have chosen anywhere in Europe for its first Mattel Play! is testament not only to Liverpool's success as a visitor destination but also the quality of its businesses and their employees based here.
"We look forward to welcoming more families to the city and particularly to our iconic waterfront."
More information about Mattel Play Liverpool can be found by visiting www.mattelplayliverpool.com or on Facebook: Facebook.com/MPlayLiverpool and Twitter @MPlayLiverpool.