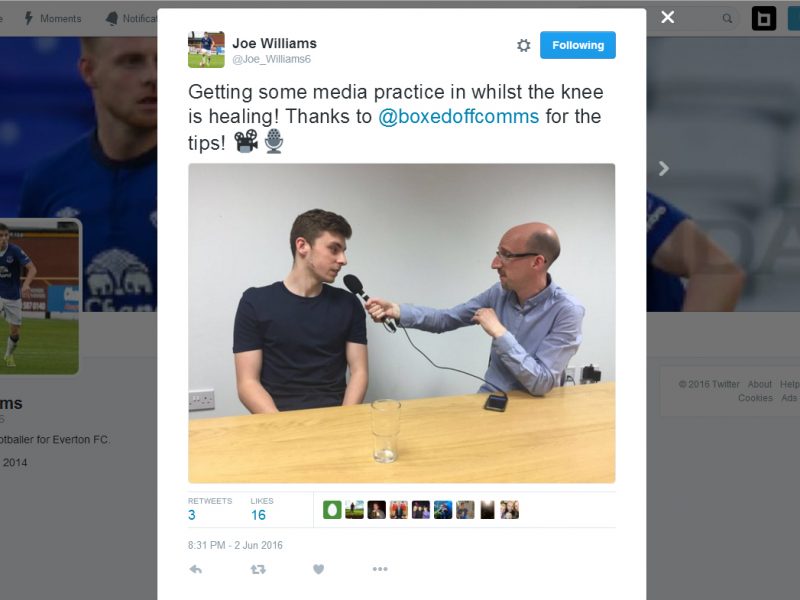 It was training of a different kind for Everton FC's Under-23 midfielder Joe Williams following a recent visit to Boxed Off.
The current captain of Everton's Under-23s team and last year's Under-21s Player of the Season is recovering after a serious injury and has been using his time away from the pitch to brush up on his media skills.
The session included how to deal with journalists, practical exercises and other hints and tips on how to handle radio and TV interviews.
Boxed Off director Richard Clein was on hand to take Joe through his paces. Richard is a former BBC broadcast journalist and a highly experienced interviewer. He has helped a wide range of individuals learn how to cope with the media spotlight and has coached top rugby and football players, working with the likes of Spurs, along with businesses such as Co-op Energy, Maersk, Chiesi, the NHS and Thwaites.
Richard said: "Joe was a natural interviewee and really held his nerve when the questioning got tough.
"I'm glad we could help him improve his media skills. Joe is definitely a future footballing star and this training should stand him in good stead when it comes to handling press conferences and post match interviews.
"Boxed Off is proud to have helped Joe and we look forward to working with other young sports stars in the future."
If you need training in how to handle the media, get in touch with Boxed Off today and book your session with Richard by clicking here.