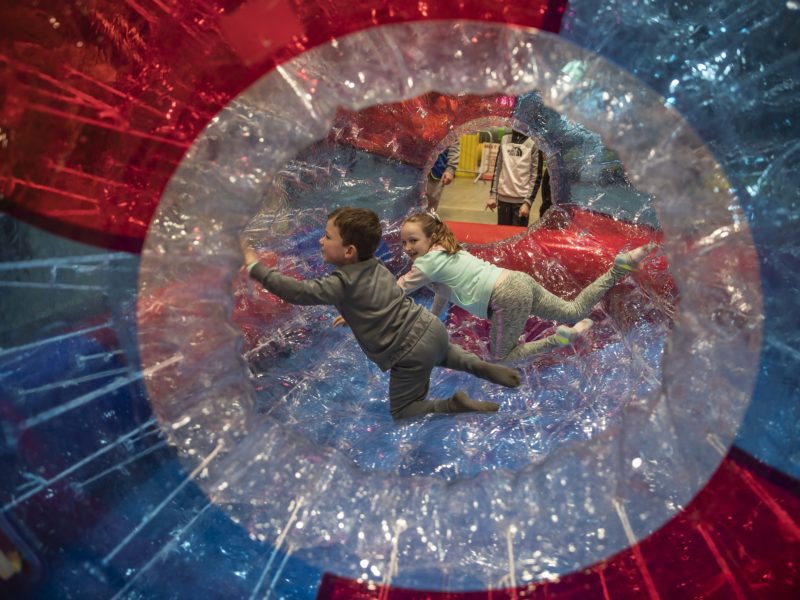 The UK's biggest indoor inflatable theme park has opened its doors for three days of half-term fun.
Hundreds of people enjoyed bouncing around on the opening day of Inflatable Adventure World with most of the sessions sold out.
More tickets have been made available for the inflatable wonderland which is making its UK debut at Exhibition Centre Liverpool and features 13 different attractions including a huge 60m Ninja assault course.
During each two-hour session there's unlimited access to 13 different inflatable attractions including a 20m high slide, a massive monster truck, 13m high helter skelter and a Nerf shooting range.
Bradley Richardson from Inflatable Adventure World said:
"It's great to see so many people bouncing around and having fun in our inflatable theme park.
"Many of the sessions are sold out but there are still some tickets left for over the weekend including the autism friendly session on Sunday morning.
"The weather outside may be miserable but there's plenty of smiling faces here."
Tickets cost £10.99 (including booking fee) for unlimited access to a two-hour session and there are still some available for Friday 21st at 7.30pm-9.30pm: Saturday 22nd at 10am-12noon; 12.30pm-2:30pm; 3pm-5pm; 5.30pm-7.30pm and 8pm-10pm: Sunday 23rd at 12.30pm-2:30pm; 3pm-5pm and 5.30pm-7.30pm.
Ages 2 and under are free. Spectator tickets are available for £3 (including booking fee).
To book tickets visit www.ticketquarter.co.uk or to find out more follow on Facebook: @Inflatable Adventure World